15 Sep 2021, 10:00 - 11:00am
Image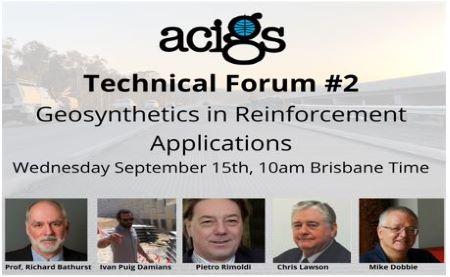 Add to Calendar
2021-09-15 10:00:00
Technical Forum #2 - Soil Reinforcement - Geo-Reinforcement
Join us for our second technical forum where our panel of guests will discuss Geo-Reinforcement.
QLD
ACIGS
info@acigs.org
Australia/Melbourne
public
Registration is now open for our second technical forum. We welcome you to join our panel of experts as they discuss Geo-Reinforcement. This is the second of our quarterly Technical Forums where each forum links to one of the IGS Technical Committee themes – in this case, Soil Reinforcement.
The format of this Soil Reinforcement Technical Forum will be as follows:
Introducing the Key Speakers and the Panelists
Presentations by the Key Speakers (30 minute in total)
Q&A:  Open the session for questions and answers and panel discussion with Key Speakers and Panelists.
During the Q&A and panel discussion, there will be questions selected from those received prior to the event, as part of the event promotion campaign, or any good questions that may be received during the presentations.
These questions can be emailed to info@acigs.org by 10:00AM Friday 10th September - sending them after this time frame may not guarantee they are selected.
Our panelists for this Barriers Technical Forum will be -
Prof. Richard Bathurst
Pietro Rimoldi
Ivan Puig Damians
Chris Lawson
Mike Dobie