7 Nov 2023, 12:00 - 1:00pm
Image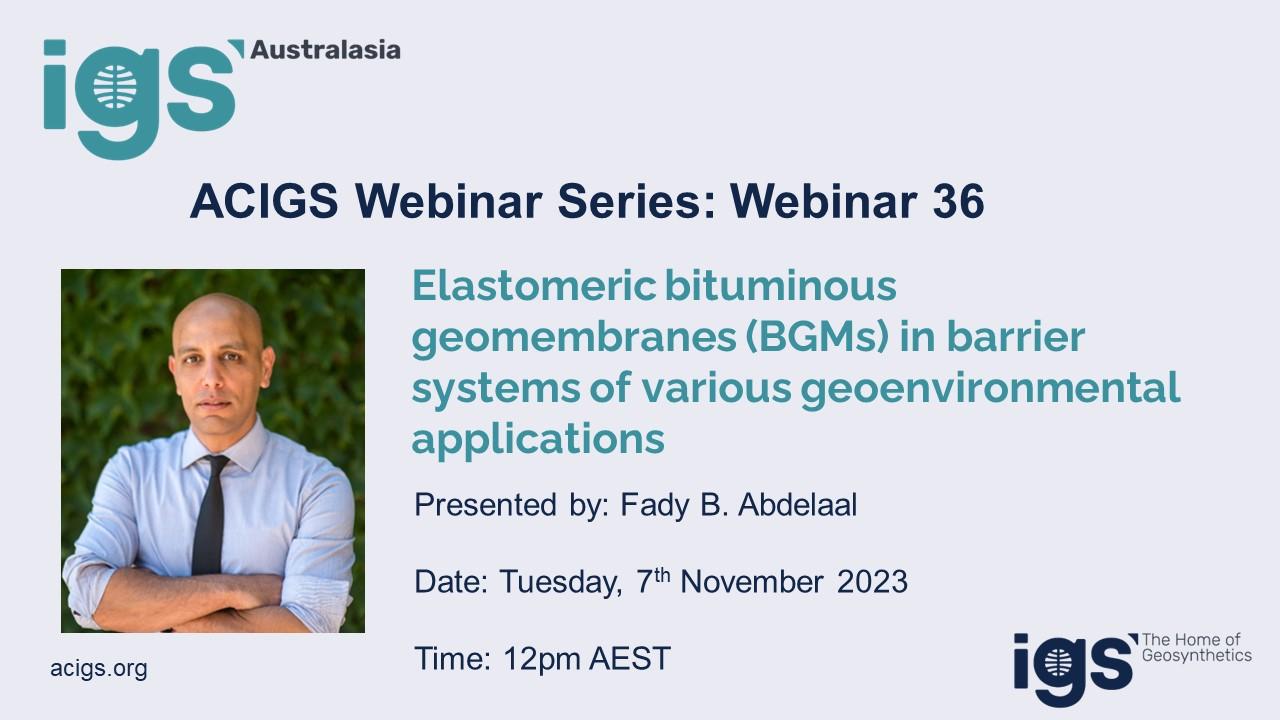 Add to Calendar
2023-11-07 12:00:00
Elastomeric bituminous geomembranes (BGMs) in barrier systems of various geoenvironmental applications
QLD
ACIGS
info@acigs.org
Australia/Melbourne
public
Join us as Fady B. Abdelaal discusses Elastomeric bituminous geomembranes (BGMs) in barrier systems of various geoenvironmental applications.
Registration aviailable soon.
About the Webinar
A holistic investigation of the different aspects of the performance of elastomeric bituminous geomembranes (BGMs) in barrier systems of various geoenvironmental applications will be presented by Fady B. Abdelaal. The physical performance of BGMs will be first discussed using the results obtained from the direct shear test to assess the shear properties of different interfaces involving BGMs. Results from large-scale tests built with the full liner configuration that were used to examine the puncture resistance and hydraulic performance of BGMs will be also presented. Second, the chemical durability of BGMs will be discussed and the effect of elevated temperatures on their degradation behaviour when immersed in different synthetic solutions will be presented. Additionally, results from a custom-designed apparatus that was used to age the BGM under single-sided exposure will be presented to estimate the time to nominal failure of the BGM under field exposure conditions. Finally, using diffusion tests and contaminant transport modelling, the BGM's performance as a diffusive barrier will be evaluated and compared to different polymeric geomembranes. Based on the data collected over the last five years, recommendations to improve the BGM performance in the field and hence maximize the environmental protection of the barrier system will be discussed.
About the Presenter
Fady B. Abdelaal, Ph.D., P.Eng, is an Assistant Professor in the Department of Civil Engineering at Queen's University, Kingston, Canada. His expertise involves the characterization of polymeric and bituminous geosynthetic barrier systems for geoenvironmental applications to examine their long-term degradation behaviour. His research program involves the use of geomembranes in solid waste landfills, low-level radioactive waste containment facilities, potable water reservoirs and mining applications. His research also involves assessing the long-term interface shear strength of geosynthetic barriers, diffusion of contaminants into geomembranes, and monitoring geosynthetic liners in frozen grounds. Abdelaal is currently the Chair of the Geosynthetic division of the Canadian Geotechnical Society (CGS) and the Vice President - University Outreach of IGS-NA.