18 Aug 2022, 10:00 - 11:00am
Image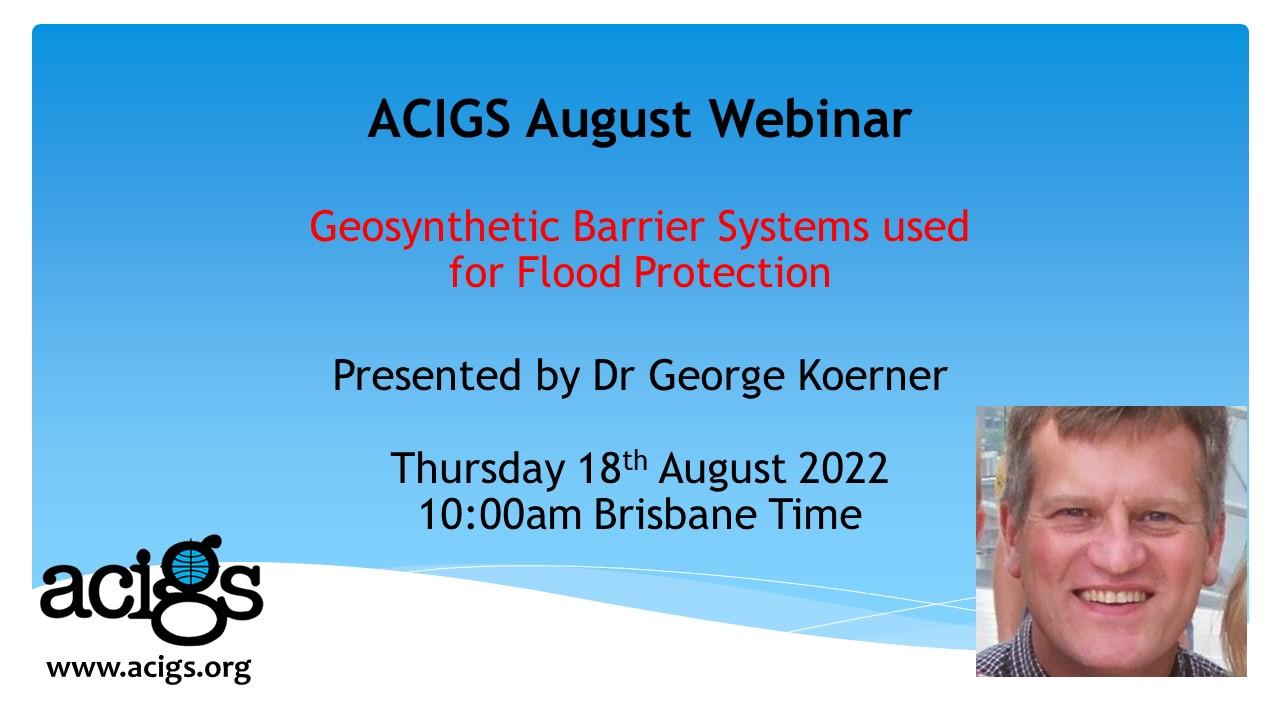 Add to Calendar
2022-08-18 10:00:00
Geosynthetic Barrier Systems used for Flood Protection
QLD
ACIGS
info@acigs.org
Australia/Melbourne
public
ACIGS Webinar 18th August 2022, 10:00am - 11:00am Brisbane Time
Geosynthetic Barrier Systems used for Flood Protection
Description: Dams, dikes, and levees (embankments) are all water barrier systems used for flood protection. These systems are similar but, can be used in different scenarios to effectively control the flow of water and serve a critical role in protecting land and property.  Geosynthetics are commonly used in these structures for separation, filtration, drainage, reinforcement and as moisture barriers.  Such systems are constructed to confine streams or prevent flooding, waves, or tide changes. These structures should be resistant to hydrostatic pressure of floods, erosion, piping failure and seepage.  By containing flows within embankments, impeding seasonal floodplain inundation, the floodplain area exposed to inundation is restricted. Since dams, dikes, and levees cannot guarantee absolute flood prevention, they should be designed to provide a "known" level of protection. This degree of protection is generally driven by economic and environmental factors. This lecture will address concerns with water barrier systems and include specific recommendations to be considered for improving the technology going forward with geosynthetics.
Target Audience:  Both public and private sector owners; federal, state and regional geotechnical, transportation, and environmental engineers; engineers from municipal districts and townships; private and municipal land developers, architectural and landscape designers; general civil consulting engineers; testing laboratories servicing these organizations; manufacturers and representatives of geosynthetic materials; contractors and installers of flood protection systems; academic and research groups; and others desiring technically related information on this important aspect of our infrastructure.
Learning Objectives:  Participants will become familiar with details of geosynthetics used in flood protection systems. Case histories will illustrate (i) idiosyncrasies of flood protection systems (ii) major circumstances which challenge these structures over the long term (iii) various weaknesses of soil-geosynthetic interaction which can be overcome by proper design and testing.
George R. Koerner, Ph.D., P.E. & CQA, Director, Geosynthetic Institute (GSI)
George R. Koerner is Director of the Geosynthetic Institute.  He is in charge of laboratory accreditation, field certification and continuing education at the Institute. He also manages several research projects and has published over 300 technical papers in his 35 year association with polymers used in construction. 
Dr. Koerner's Ph.D. is from Drexel University in Geotechnical Engineering.  He is a registered professional engineer and a certified quality auditor. 
George has received many awards over the years.  The most notable being IFAI's Environmental Technologies Award of Excellence 1995, ASCE's DVGI Geotechnical Engineer of the year in 2004, the title of ASTM Fellow in 2013, GMA's first Koerner lecturer in 2017 and the title of ASCE Fellow in 2020.
We thank our wonderful sponsor for their support of this event.